The girls and I had the pleasure of going with their dear Air Force Auntie Kirsten on a super fun day trip adventure this week! This was a very easy and super awesome "short" day trip! You absolutely must check it out. You won't be sorry!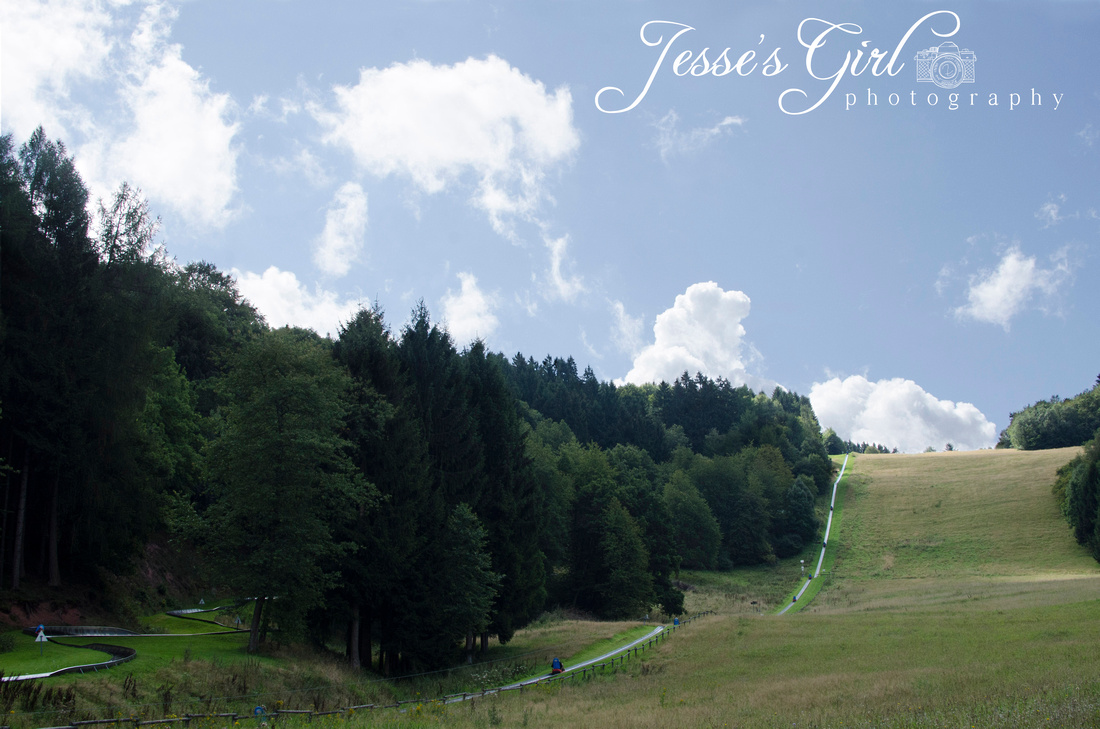 For starters, here's the website which translates pretty well into English. Make sure you call the number if you are in any doubt about the opening times or the weather conditions, as they close for rain due to safety.
The address for your GPS is Freizeitzentrum Peterberg, Zum Waldchen 3, Braunshausen 66620. (It's less than an hour drive from the KMC area) Phone number 0687391134.
The main attraction is obviously the toboggan track. The age limit to ride the cars with an adult is 3 years. Children under 6 years are free. And children 8 and above can ride in the cars alone. Each car has a very own braking system that's super easy to use. You can go as fast or as slow as you like! We liked fast... even the girls! (ages 3 and 4)
So you arrive at this beautiful fun park and if you're lucky you have blue sky and fluffy white clouds to smile on you! After you get your tickets you wait in a short line for your car and you get to enjoy the automated ride all the way up the hill!! It's fabulous! (Seriously, just imagine if you had to walk... or try to get your KIDS to walk!)
Once you get to the top of the track it's a short ride around the bend and then WEEEEEEEEE all the way down! We payed 15 euro for 6 rides (that we split between two cars) and the three rides probably took about 45 minutes with wait time.
*One special note about the cars: it's not really possible to bring your bags* Especially if your bag is large or contains valuables (read: my camera bag) then there's definitely no place to stash it in the tobaggon cars. Plus you kind of need to have both hands on the brakes on either side of you... and if you're like me, then you will probably have a child sitting in between your legs.
So pack light if you can and don't worry - the parking lot is a short walk to and from the track so you can leave your stuff in the car as needed.
But that is not all, oh no that is not all... (first one post in the comments which children's book that quote is from wins a free 8x10 digital fine art image)
THEN you get to choose your method of refreshment! We opted for a picnic lunch under the adorable tents in the field above the main building. There's also a restaurant (and of course, it's Germany so there's a biergarten) and in the main building there are delightfully clean bathrooms.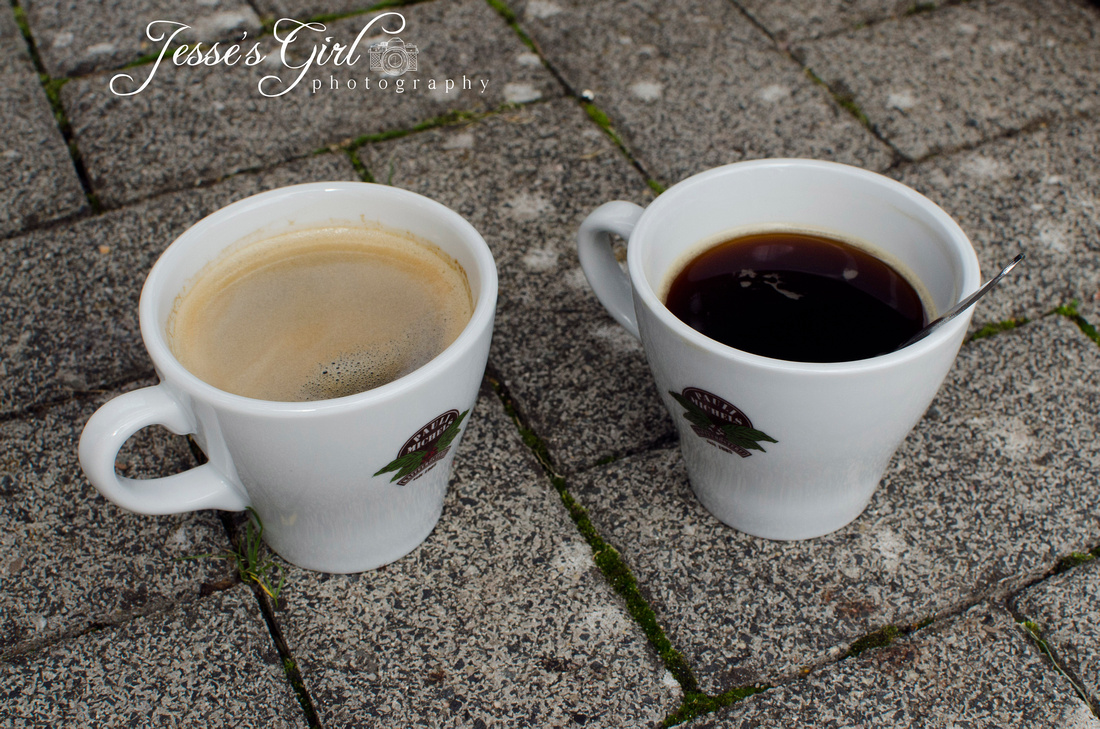 This is just me, but I always need an afternoon pick-me-up! Delicious coffee, as usual. And real mugs, even when you leave the restaurant, as usual. Thank you Germany for being so classy and cool.
There is something so much less enjoyable about a steaming styrofoam cup of coffee!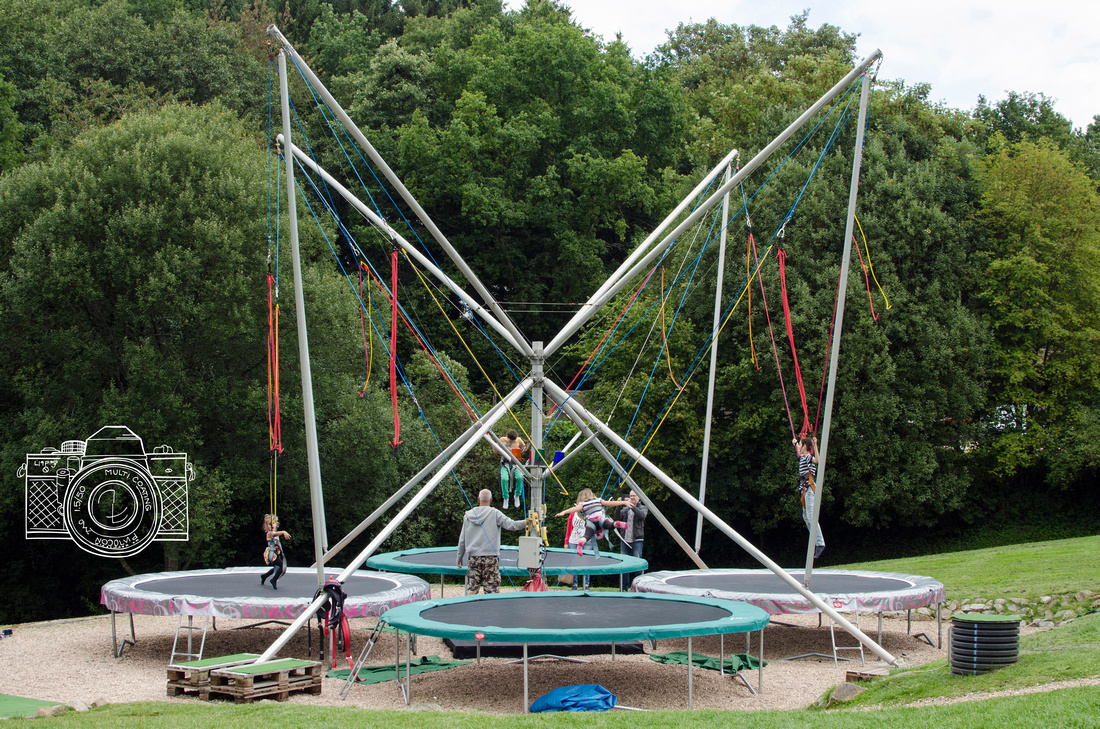 The next most exciting adventure at this wonderland full of fun would be the trampolines-on-steroids. You pay 4 euro for a five minute ride in kid-heaven.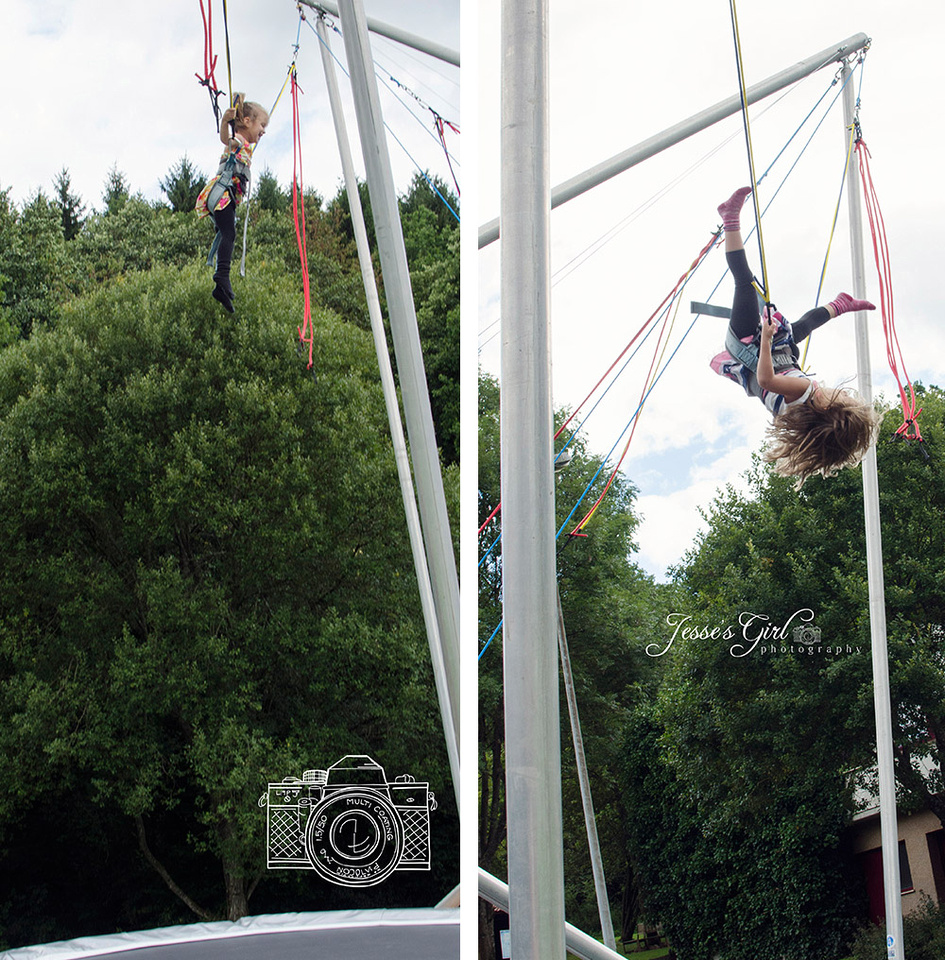 The guy running it was kind enough to bounce Sam higher (she wasn't quite getting the hang of the bungee cords.) AND he taught Lily how to flip over backwards mid-jump! I was smiling so much watching them have fun that my cheeks kind of hurt afterwards!
And last but not least are these super fun slides. You only pay 30 cents per ride! They have little carpets to sit on and the kids (or adults!) get to decide how daring they want to be! (I believe the middle one has an age limit of 6 years.) You can also ride double on these.
And that's our first experience of summer tobogganing in a nutshell! Check it out while they still have pretty open summer hours! It's seriously a blast. A big thanks to Kirsten for introducing us to such a fun place.