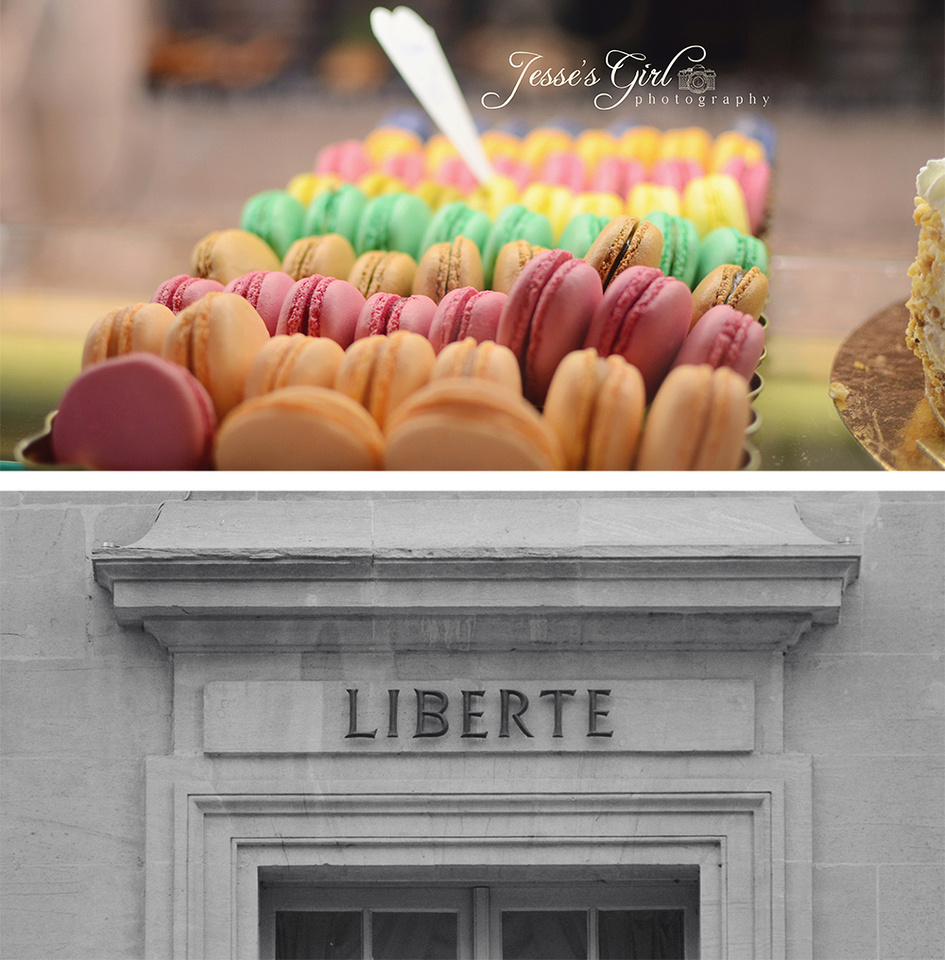 This next installment of Easy Day Trips will take you to Metz, France. It's my all time favorite day trip so far. I have been to Metz many many times now, because we just love it so much and it's only an hour drive! There is just something so charming about France. I loved Paris but getting there and seeing all the sites just takes too much time and money to justify regularly. But I would happily go to Metz every other month just to get macarons and say "oh yeah, I went to France this morning."
So here's my love letter to Metz, France. Be sure to keep in mind that this is just my family's experience and we aren't travel experts. And let me know if I missed something important because I haven't been in awhile and would love the excuse to visit again! ;o)
Remember to check out Pocket Earth if you need an offline map.
Oh and one more thing: don't visit on a Sunday. All my favorite shops and restaurants are closed on Sundays. We found out by accident that Metz isn't a big enough city to give a crap if tourists are dumb enough to visit on a Sunday.
So I like to start at the Cathedral, St. Stephen's. It's one of the tallest cathedrals in the world! I believe it's the third highest nave in France at 135ft tall and it gets the prize for the most stained glass in the world, with almost 70,000 square feet of beautiful windows. I usually get a kink in my neck from staring up at such a beautiful height of ceiling, glass, and architectural awesomeness. And if the sun is shining just right you get to enjoy some dazzling stained glass reflections inside.
There's also a tourist office across the courtyard towards the back of the cathedral if you want more detailed information. Or a clean bathroom. (I haven't *actually* used the restroom there but I'm sure there is one)
There's a cool tea shop called Kawa-Tea du Monde on the Place de Chambre. I like to try new types of loose leaf tea and my favorite from that shop is a deliciously spiced Christmas Tea. They also sell French presses and cute tea pots and mugs.
If I didn't have a habit of breaking my French press I would be super tempted to get one from France. I mean, how glamorous is that? "Yeah, I got this French press IN FRANCE." So if you aren't as clumsy as I am, I think that would be a super fabulous souvenir!
I highly recommend this great restaurant called Au Marché on the Rue du Faisan right down the road from Kawa-Tea. They have a seasonal menu based on things they purchase daily from the Market across from the Cathedral. I've enjoyed it twice and I love that the menu is short and always changing. The owner speaks great English and will translate the day's menu for you, but it's a gamble with the rest of the staff, so make sure you have at least a small dictionary or something so you don't get stuck guessing. Though seriously, I don't think you could lose with that kind of russian roulette. The food is delicious!
I would definitely recommend dining alfresco if you have the option!
If you're looking for cheaper food, we've had absolutely wonderful treats, bread, cheese, etc. from the market. (Right across the street from the Cathedral. We actually usually park in the garage directly under the market, as it's so central.) (PS It's closed on Sundays AND Mondays.) The market is a fun building to browse even if you aren't going to buy.
It's a very old covered market, so it's neat to wander around and take in all the sights, sounds, and smells. Some of the cuts of meat in a French fresh market are a bit startling to an American who usually only sees meat in perfectly sterile packages. If I had to buy a whole chicken (including head AND feet) I don't really know what I would do!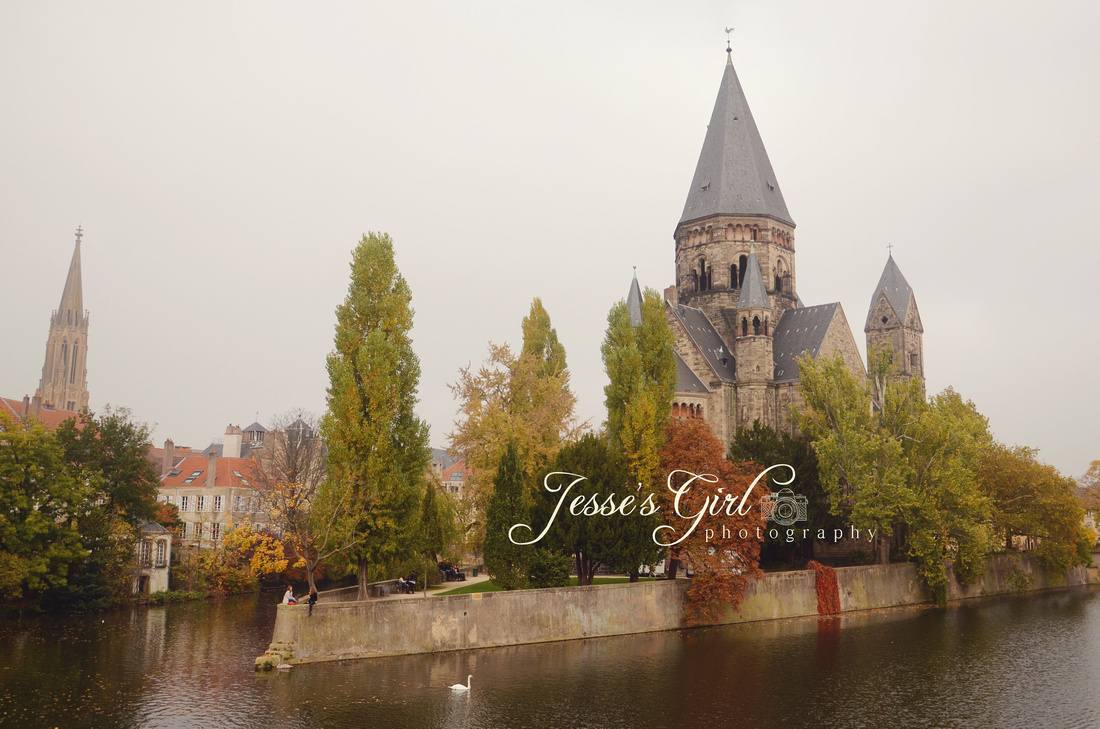 From Au Marché you can head right to go over one of the bridges that cross the Moselle River and explore. There is a lovely garden surrounding the Temple Neuf. You can go inside the church but it's kind of a letdown after the Cathedral. We like to give the girls a break there in the gardens. You can usually see lots of swans in the river. And it would be a great place to bring a picnic of cheese, wine, and a baguette!
And speaking of baguettes and things the French really know how to excel at, don't leave Metz without stopping by a bakery for an éclair. Seriously, I grew up on my Dad's favorite Dunkin Donuts version, but THESE are the real deal.
And if you keep heading up the Ru du Pont Saint-Marcel, you'll come across what remains of an old German church on Ru Belle-Isle. I looked it up once, apparently over the centuries as the city has changed hands between the Germans and French, the Germans constructed a big old church that the locals were a bit grumpy about. It was mostly destroyed during WWII bombings but the tower never fell down and would have been expensive to take down. So they left it. It's kind of interesting because there's now a hospital where the rest of the church used to be!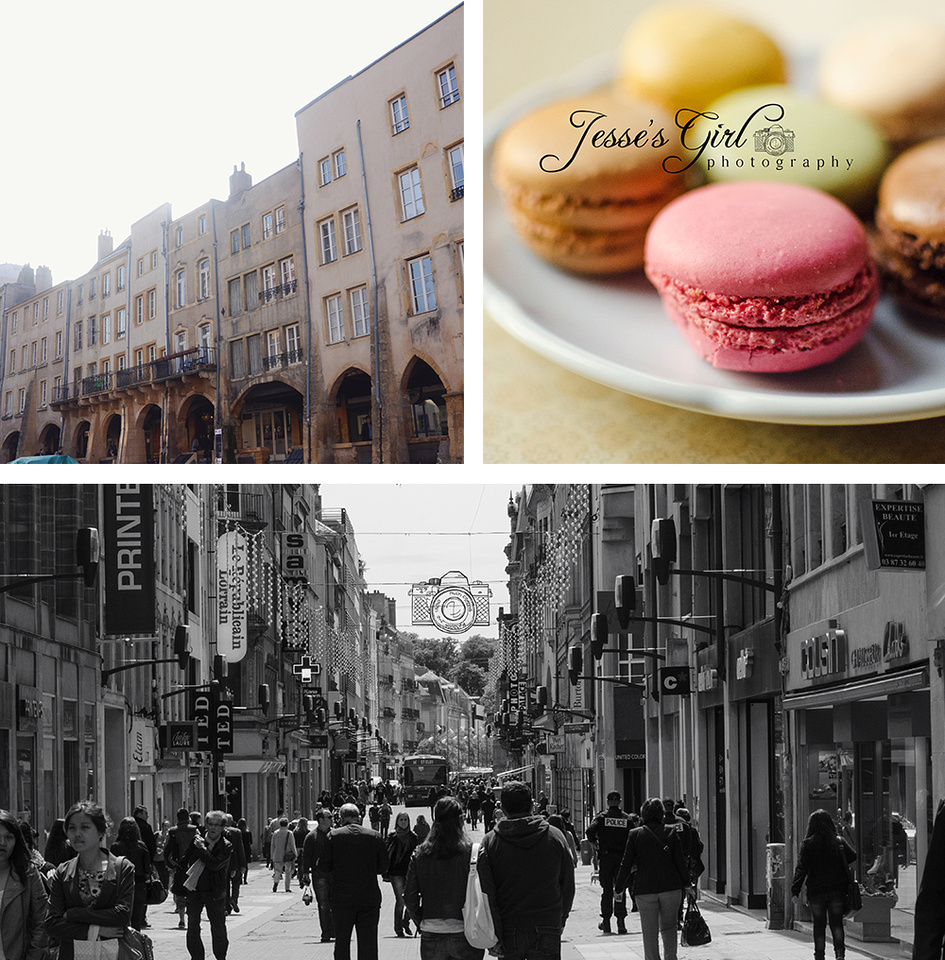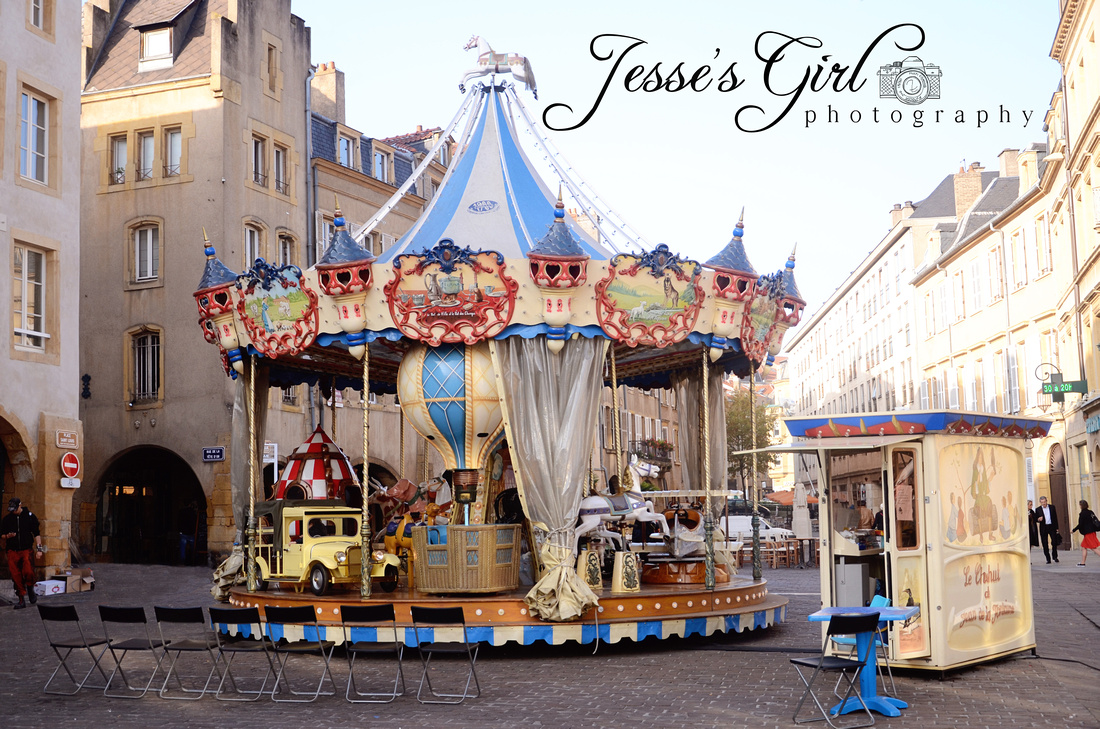 So back in the Cathedral area of the city center, find the Rue du Palais and head down it for lots of shopping options. When you hit the Place Saint-Louis square you will see a pretty merry-go-round. This is a nice place for more shops and restaurants. I hear this is the best spot for the Metz Christmas Markets. But the gem you want to find is Fresson. According to the owner of Du Marché, Fresson has the best macarons in the city.
Now you can get macarons at pretty much every bakery on every corner of ever street in France. But we asked a local and he said Fresson makes his favorites! (We've never been disappointed.)
Other than that Metz is just a great city to get lost in. Lots of cool things to see, fun parks to discover. Tons of pretty architecture and lovely gardens/fountains.
Let me know if I need to add any other must-sees the the Metz list. And tell me in the comments what your favorite KMC area day trip is! We're trying to do more day trips this summer and we'd love to take YOUR advice!
Happy travels!