I'm going to start a new section here on the blog called "Easy Day Trips" ... we've lived in Germany long enough that I have plenty of information and photos to share of great trips within easy driving distance of the KMC.
We'll start with our recent trip to Rothenburg ob der Tauber. Later I'll highlight some of my favorites in Germany: Trier, Heidelburg, Worms, Mainz, St. Goar, etc. And then Metz, France... one of my all time favorite day trips!
These will be just our family's experience. We aren't travel experts, by any means. But I know I always appreciate recommendations of people who've "been there" when I'm thinking of trips.
I typically use my Lonely Planet Germany Travel Guide to research sites and restaurant recommendations. And I highly recommend this Pocket Earth app because it doesn't require internet. It's pretty easy to use... I pin and label the options ahead of time so that we're ready to go once we get there and I no longer have wifi for my iPod Touch.
So back to Rothenburg...
It took us about 2.5 hours to get there and we easily found parking just outside the city wall. My gps required that I specify "ob der Tauber" (but everyone usually just calls it Rothenburg.)
One thing I loved about Rothenburg is that the altstadt (old town) is not very large. We had no trouble finding our way around, and we even went back and forth across town a few times. My 3 and 4-year-old daughters were able to walk much of it. (It's a typical non-stroller friendly European city, so bring a backpack carrier if your kids are small.)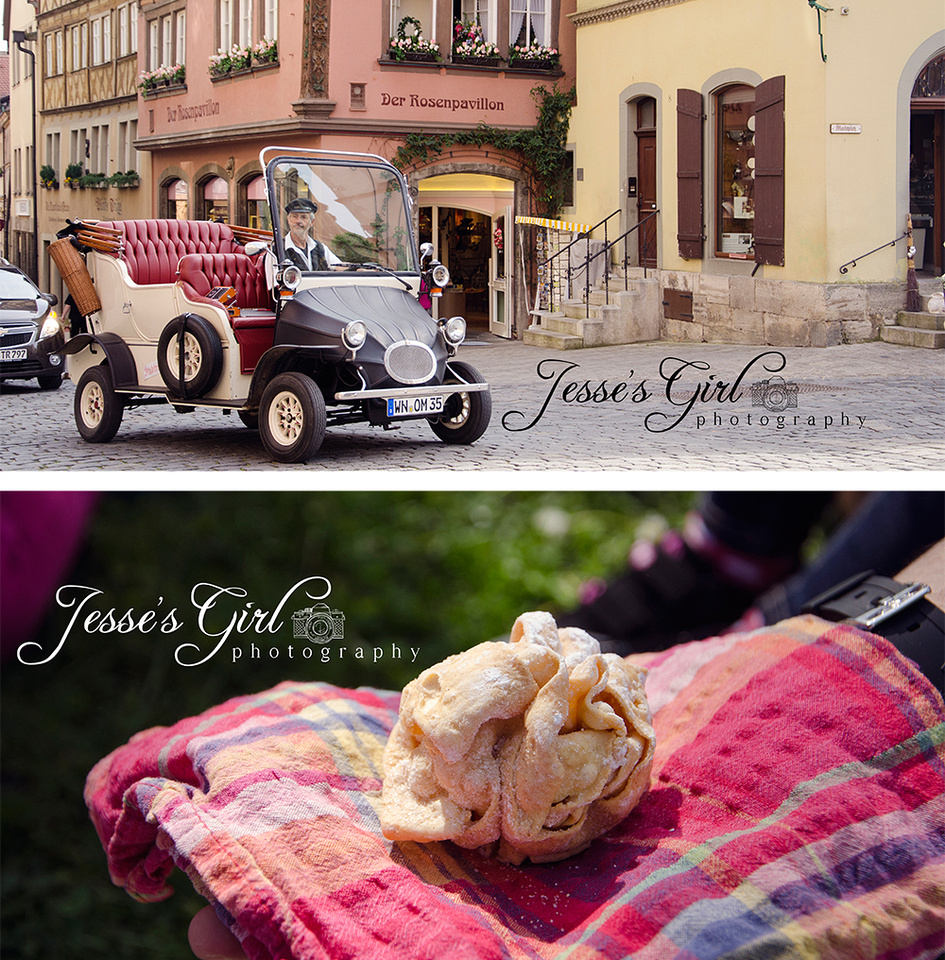 Things we did in Rothenburg:
1. Eat schneeballe... the "snowball" pastry pictured above. It's a semi-sweet cookie dusted with powdered sugar. It's been a Rothenburg specialty for a couple hundred years! Some of them are coated in chocolate and some are have filling. You can find them in almost every bakery in town.
2. Explore the city wall... it's 2.5 km if you walk the whole thing. You get some pretty neat views of the city.
3. Picnic in the Burggarten... right off of Herrngasse (which turns into Marktplatz in the center of town.) We packed some food and purchased bread, cheese, wine, and schneeballe from local shops. There are CLEAN public bathrooms on the left as you go back through the city gate to Herrngasse.
4. Find a playground... there are three playgrounds outside the city wall and we stumbled across the one near the Burggarten. It's near the corner of Klosterweth and Krebengasschen. My kids (and husband) had it all to themselves and it was a nice break for us!
5. Dinner at Reichs-Kuchenmeister. It's a nice hotel/restaurant just across the courtyard from the big Jakobskirche church. We had excellent service, and the biergarten had a kid carousel for 50 cents a ride! (kid points) The food was classic German fare, very tasty. They earned extra kid points with my girls for having a kid-sized sink in the ladies bathroom and a fish tank in the hallway. They are easily amused by the simple things in life :o)
Other things to try that we didn't get around to checking out:
1. Rathausturm... You can climb 220 steps to an observation deck with nice views of the river. Located in the Marktplatz. 2 euro for adults. Open 9:30-12:30, 1-5.
2. Jakobskirche... the big church in the center of the city. We walked around but didn't go inside. There is a small fee.
3. 90 minute English walking tour... the Tourist Office off the Marktplatz offers these tours for 6 euro/adult. Sometimes they have them at 2pm (according to Lonely Planet) but they were only offering an 8pm night-tour that day so we opted out.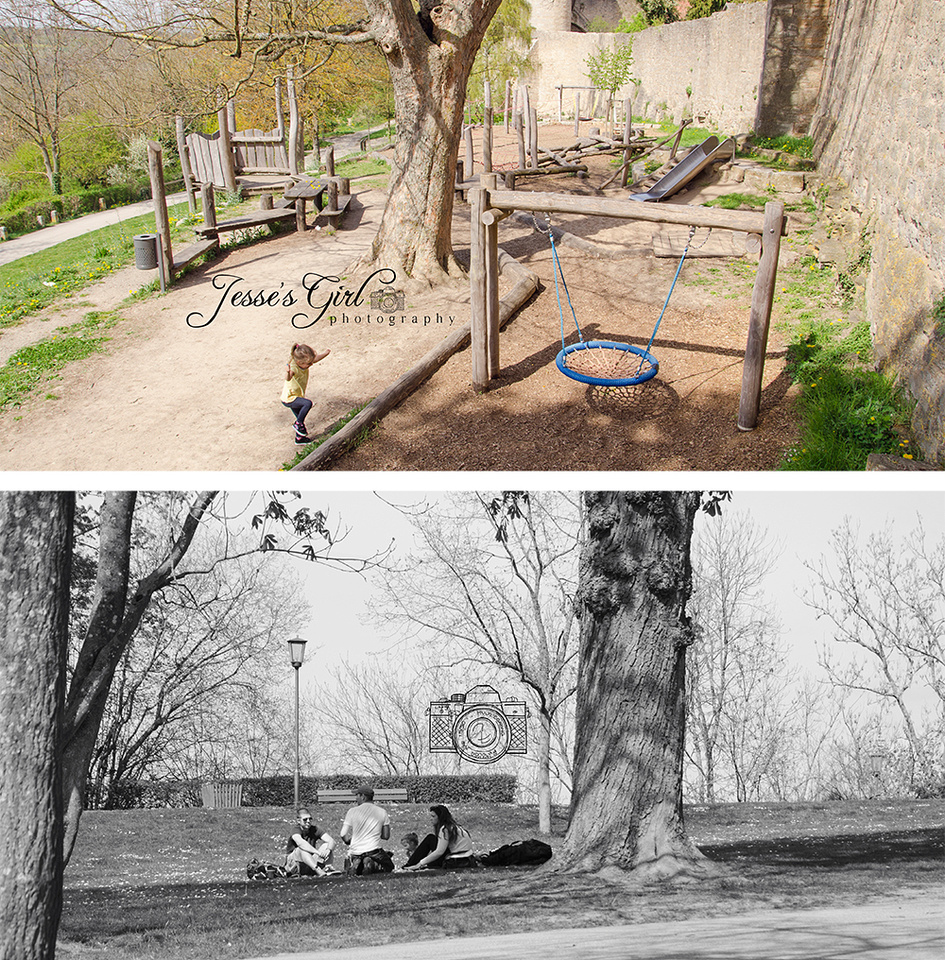 Museums... Some really interesting museum options, but we tried to go to two and found them closed at the time, so we gave up. Not for lack of trying, just too close to dinnertime! I recommend doing your own research on opening times and costs as it may change from month to month!
1. Reichsstadtmuseum (Imperial City Museum) has a beautiful collection of art, culture, and history. Housed in an old convent. Lonely Planet suggests the gardens are a nice place for a picnic. Located on Klosterhof, near the Kirchplatz of Jakobskirche.
2. Alt-Rothenburger Handwerkerhaus. Reconstructs the working and social life of the medieval citizens. Located near Alter Stadtgraben and Rodergasse.
3. Puppen-und Spielzeugmuseum (Doll and Toy Museum) located on Hofbronnengasse.
4. Deutsches Weinachtmuseum (German Christmas Museum) located on theh Marktplatz.
Lonely Planet restaurant recommendations:
1. Zur Holl. A medieval wine tavern, housed in the town's oldest building! It dates to the year 900! Located on Burggasse.
2. Baumeisterhaus. In an old German inn with a beautiful courtyard. Located on Obere Schmiedgasse.
So that was our family experience of Rothenburg! If you head there this year let me know in the comments what your family favorites were, in case we go again! And I hear they have an EXCELLENT Christmas Market!
Happy travels!