I do not have much of a sweet tooth, nor am I generally into baking. But when it comes to the holidays, I am a devoted lover of fancy sugar cookies with pretty decorations. I am obsessed with piping fancy glazes onto my favorite Christmas Cookie Recipe and it is usually a me-time thing that I do when the girls are not around.
For example... here are two pictures from my Easter cookies of 2013...
It's fun to decorate cookies with artsy-fartsy flair. But my daughters are 3 and 4 years old. They do not decorate cookies like their Momma. So I was challenging myself to let them be more involved in cookie-time this year... which obviously meant I had to let go of all ideas of "perfect" cookies ;o)
So I made a different, easier recipe. And butter-cream frosting. Which I globbed in generous amounts on the cookies for them to "dec-o-wait."
The results were fabulous!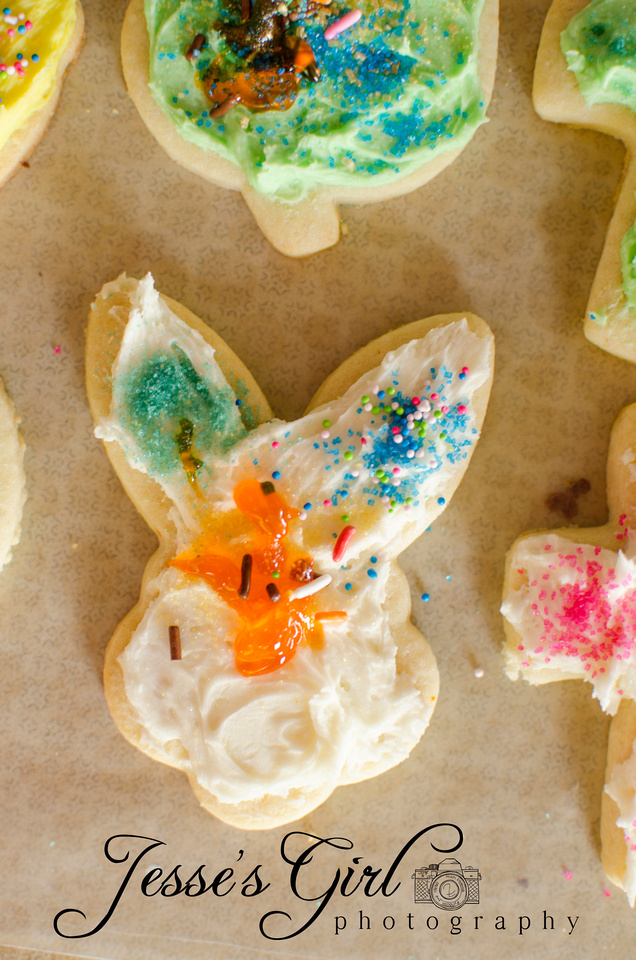 Sure, there were icing and sprinkles all over the place. And I almost popped a blood vessel trying to remain calm as I reminded them not to lick their fingers or eat every. single. cookie.
But we had a blast together and they even let Momma decorate one or two ;o)
And I was thinking about how most of my favorite memories and favorite photos are of the times when the girls are just being girls. That's one thing I strive for in my Mom-photography, and in my client-photography as well... capturing glimpses of the real moments of childhood.
Sure, my perfectly-glazed Easter cookies make me smile. But so do the globs of gooey orange gel and piles of mismatched sprinkles! If I can capture your family all smiling perfectly at the camera, high five for me. You'll probably love that picture. But I also always aim to get photos of your family just being your family.
Even in the "messy" moments when only one of you is looking at the camera, but everyone is laughing hard at sister's joke.
Happy Easter one and all! I wish you some happy family memories this weekend! And be present in those moments, even the not-so-picture-perfect ones!